What can be more exhilarating than being dropped from an aircraft from 13,000 feet and spiraling downwards at 120 miles per hour? On your next holiday to Dubai, live out your dream of soaring by engaging in this demanding sport with skydiving pros.  Dubai skydiving is now to a different extreme, with indoor and outdoor jumps options. Further, it is a one-of-a-kind adventure that you can't replace with any adventure sports in Dubai.
Further, Dubai's stunning scenery is a great reason to jump in the sky. During a skydiving trip, you will be able to see the endless golden dunes and the iconic Burj Khalifa from a bird's eye perspective. You'll also get to see the famous sails of the Burj El Arab.
The soaring experience in Dubai is a thrilling adventure for those who love heights. Also, you'll be rewarded with a stunning view of the city in the air. You'll see the sapphire waters of the Arabian Gulf, and you'll be able to take in the city's cosmopolitan skyline from the sky. 
However, the Dubai skydiving price may be high, but the experience you will be getting is worth the money spent on the skydiving. 
Types Of Dubai Skydiving For Your Next Vacation
There are three different styles of Dubai skydiving if you are looking for some thrill and unique to undertake in Dubai. 
So make sure you include any of the skydives in your Dubai Tour Packages.
1. Tandem Jumping
If you are making your debut in skydiving in Dubai, you should go for a tandem jump. Tandem jumping is a sport that enables participants to experience the thrill of free fall while being accompanied by expert trainers. To start, you would be securely harnessed to the instructors. 
Also, the instructor will guide you through the entire jump, from take-off through free fall, parachute flying, and landings. 
Doesn't the entire Dubai skydiving seem thrilling? Imagine the fun you would experience while undertaking it!
2. Static Line Jumping
If you're looking for a solo skydive in Dubai, the Static Line Jump is an excellent option. In this type of jump, the skydiver will experience a brief free-fall before the main parachute unfolds. 
Whenever the diver exits the aircraft, a "static line" connected to the aircraft triggers the opening of the prominent canopy. Before undertaking your initial static line jump, a whole day of technical and ground training is mandatory.
3. Free Fall with Acceleration
The accelerated free-fall (AFF) is usually considered a genuine deal. Although AFF training is strenuous, your first jump will be a 50-second free fall! It is among the most enjoyable activities in Dubai.
Amongst the most Dubai extreme activities, this is a must-try. 
Two instructors teach each diver in the AFF technique. One instructor would hold the diver until they correctly opened their parachute when they would be released and deployed. Whenever the diver releases the parachute, another instructor on the land communicates verbally with him via a radio worn by the diver.
Why Go For A Skydive In Dubai?
There are many other reasons to go skydiving in Dubai. The first is that you can see Dubai from a different perspective, and you will get to see the Palm Jumeirah from an aerial view. This archipelago is famous for its sapphire water and overhead palm design. 
The Best Locations For Dubai Skydiving
There are two magnificent sites in Dubai for skydiving and the expense of skydiving in Dubai.
1. Skydive in the Palm Zone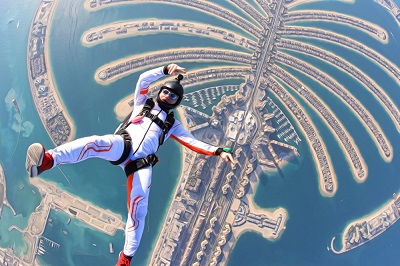 Dubai's Palm Drop Zone is the city's premier skydiving attraction. Whenever you reach the Palm Jumeirah for skydiving, you'll see that the palm zone is an artificial island fashioned like a palm tree. A tranquil ocean encircles on three sides. What could be better scenery for Dubai skydiving?
The pricing is AED 2199. 
The location is at Al Seyahi St, Dubai. For Palm Dubai skydive, visit between 5:00 am to 12:00 pm. 
2. Desert Zone
Enjoy an endless expanse of golden dunes and unusual desert plants and fauna. Once you jump from even more than 10,000 feet in the air, the stunning surroundings of Dubai will capture your attention. Moreover, what else could one ask for than solitude, an absence of people, and a breathtaking view from the summit? 
Moreover, you will descend for approximately 60 seconds, during which time everything will appear to be on a whirling rollercoaster. After that, your instructor will release the parachute, and you will softly drift into the air, soaking in the breathtaking views of Dubai and its desert. So, after approximately 5-7 minutes of landing, you will successfully strike the ground.
The pricing is AED 1699 at the location is at Al In Road. The timings are between 5:00 am to 12:00 pm.
When scheduling skydiving in Dubai, the following information is necessary:
The driver of the skydive must be at least 18 years old.

Nobody indulgence in alcohol or drugs.

One should be healthy and disease-free.

While the entire experience is intended to last three hours, the dive is only about 35-45 minutes.

Specifications for BMI:

Males should weigh less than 100.0 kg. Females must not exceed a BMI of 30.0 and 90 kgs. BMI maximum – 27.5
Indoor Skydive In Dubai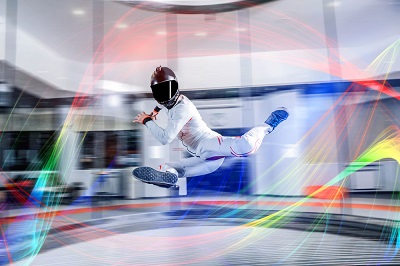 If you weren't aware, you can now witness an indoor jump in Dubai because of technological breakthroughs. 
So, make preparations to defy gravity without the need for a parachute. This relatively new phenomenon is ideal for individuals who do not like to pay the expensive cost of outdoor skydiving or are hesitant to do it.
For indoor skydiving:
1. iFly Dubai
Who hasn't dreamt of flying? You can now reserve a spot for indoor skydiving in Dubai. Follow along for an unforgettable indoor skydiving trip with their skilled instructors. Regular flyers have compared this extreme feeling to bungee jumping and skydiving. 
An operator will raise you four meters into the air in a mighty air tunnel that keeps you cold and allows for a comfortable landing. Moreover, nothing could be easier or more secure, even for those frightened of skydiving. 
Further, nothing compares to inside skydiving with iFLY Dubai to an unforgettable experience!
The Dubai skydiving price at iFly is AED 220 for 2 minutes, and the timings are 10:00 am to 11:00 pm. 
2. Inflight Dubai 
At Inflight Dubai, with world-class instructors, state-of-the-art facilities, and the world's most advanced vertical wind chamber, it will have you soaring in minutes – all without needing a parachute or an airplane. The Dubai skydiving pricing varies as per the timing of the skydive. 
The timing is between 11:00 am to 11:00 pm.
Conclusion
Dubai skydiving is an unforgettable experience. The scenery and the adrenaline rush you'll experience amaze you. This adrenaline-filled adventure in Dubai will leave you feeling rejuvenated and refreshed.
Roaming Routes offers exciting Dubai Tour Packages for a fantastic Dubai tour. Get the best deals today.